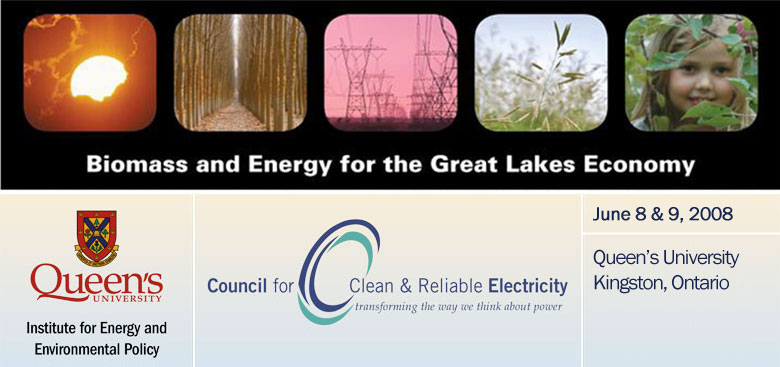 The Council for Clean and Reliable Energy sponsored the Biomass and Energy for the Great Lakes Economy held at Queen's University in Kingston, Ontario.
Rarely has a potential fuel source served so many different important policy objectives. Biomass in the Great Lakes regional economy potentially offers far greater geopolitical security in our primary energy supply. It offers the chance to greatly diversify our energy sources reduce risks related to resource depletion of oil and natural gas. Just as importantly, biomass offers the potentially enormous additional advantage of being a carbon-neutral source of energy, or indeed a possible means to net carbon sequestration.
Biomass also represents huge economic development opportunities for our great region of North America. Collectively, the Great Lakes economies are still, if somewhat diminished of late, a heartland of vast wealth, of industrious people and of robust public and private institutions for innovation. Biomass has the potential to see us bring all these things together with our own natural resource endowment to further develop our economy and society for years to come.
To be sure there are economic and policy barriers to overcome. We must find ways to build the infrastructure to bring this resource to market. And we must deal with the legitimate concerns for the impact of these developments on both environmental and social objectives, not the least of which is world food supplies. On that last point especially, I would emphasize that we know many more things than we did only a few short years ago, and that the impetus for new policy is already in the right direction.
This conference was but the first small step in discussing the enormous potential for biomass, a sustainable answer to the challenges facing not only the people of this region, but indeed the world.